20 Smart Solutions to Organize Your Home in 2020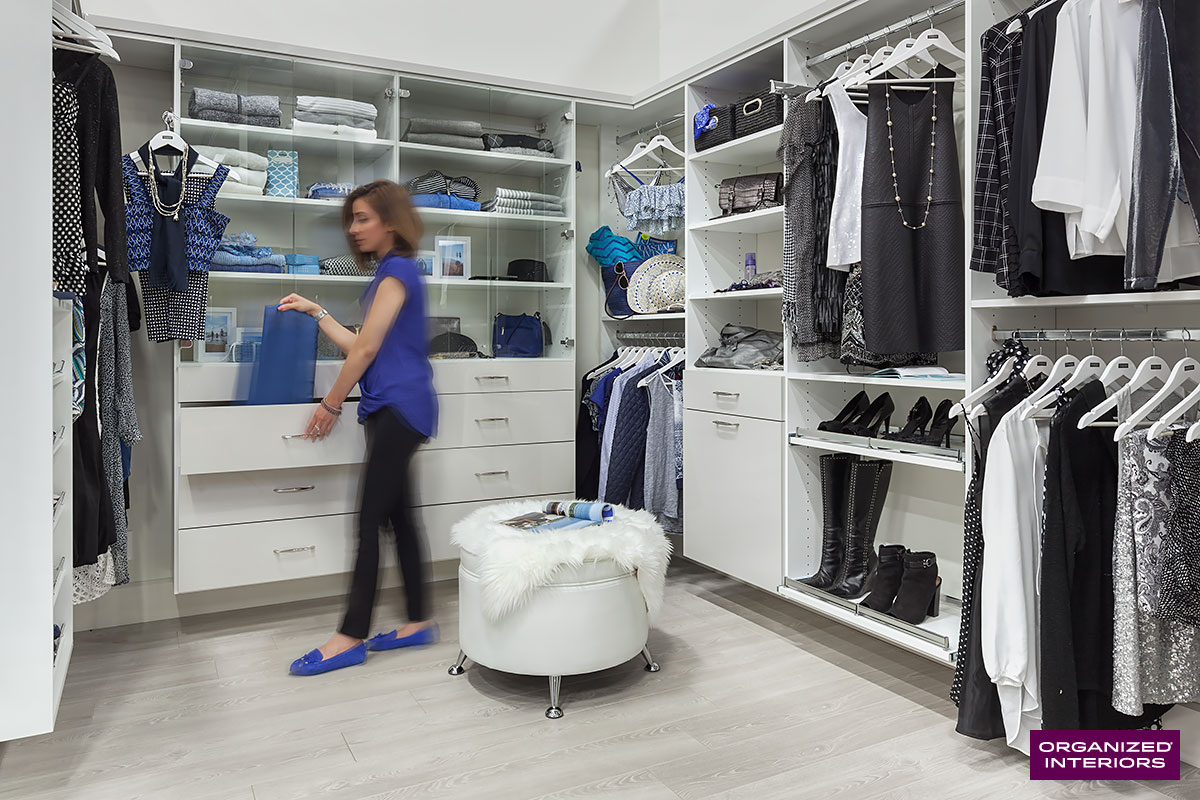 When the calendar flips over to January, research shows that approximately 60% of us make New Years resolutions.
Getting in shape, eating healthier, and learning a new skill consistently rank as the most common New Years resolutions that people make.
Right up there with them is the desire to get our homes more organized in the new year.
Focus on fixing once space at a time
Most of us have more than one area of our homes that needs some TLC. That means a quick fix for all of your homes organization or dcor issues isnt very feasible.
Taking on too much at once usually leads to a less than optimal outcome that is rarely as satisfying as you would like.
Pace yourself, have a smart plan you can stick to, and commit to improving your home one space at a time. That way you wont need to go back and tweak or improve your home upgrades, which just isnt productive.
As organization expert Christina Scalise once said,Organization isnt about perfection. Its about efficiency, reducing stress and clutter, saving time and money, and improving your overall quality of life.
How will you organize your home in 2020?
From getting your home better organized to improving your dcor, most houses and condos present opportunities to upgrade every room in ways both big and small.
Taking the time to improve your living space will deliver a boost to your homes functionality and enhance your comfort level.
But nothing happens without taking that first step. So where will your efforts to organize your home in 2020 start?
1. Reach-in closet
If keeping your closets organized is a battle you can never win, its time to look at some solutions that will make it easier to maintain a tidier reach-in closet space.
Our closet organizer systems range from simple to extravagant designs that can be customized to maximize your storage space.
Do you need a tower of shelves and/or drawers in the closets centre? How about extra hanging rods or some decorative touches like new baseboards, crown moulding, and stylish hardware to spruce up your closet space?
Just ask us and well work our magic to create a reach-in closet space youll love.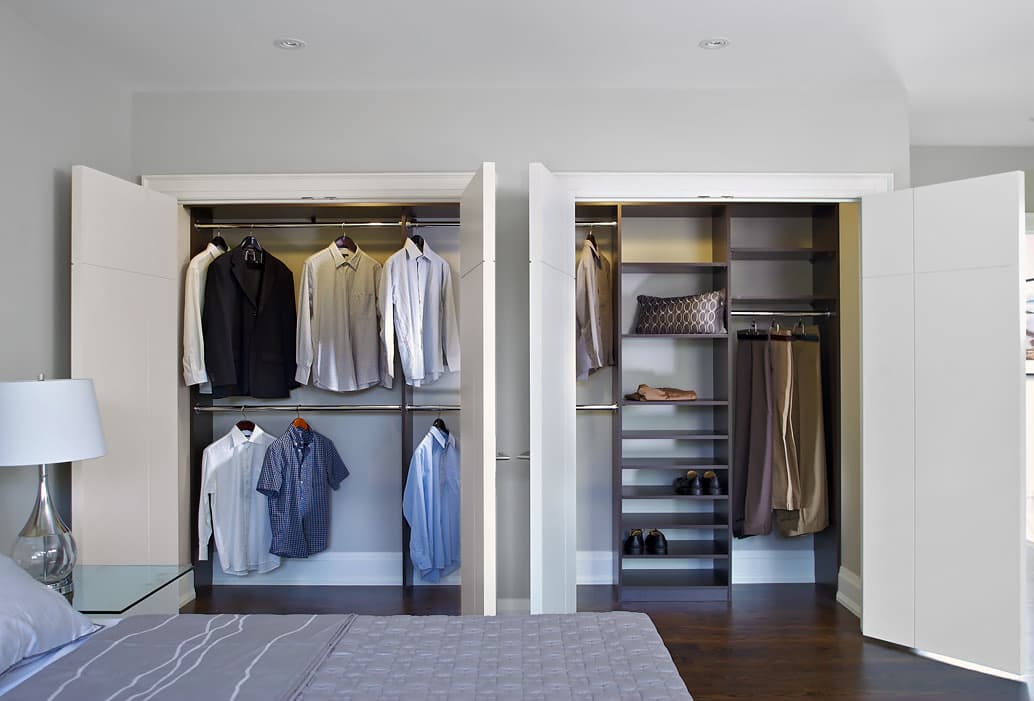 2. Walk-in closet
Youve been eyeing that spare room, contemplating its next incarnation, and plotting the takeover. 2020 is the year youre going to finally transform it into a dream walk-in closet as a solution to help organize your home.
The extra storage space a walk-in closet provides eliminates the headaches that come with managing a large wardrobe collection in a traditional closet space that cant meet your storage needs any longer.
Walk-ins customized with wall-to-wall cabinetry, a makeup area with a vanity, a full-length mirror, and a host of additional stylish design features also create the perfect private personal space for getting dressed.
3. Sliding closet doors
Our sliding closet doors have multiple types of applications and can be customized with your choice of glass, mirror, or melamine inserts in a variety of styles to match your dcor.
They can be used as traditional sliding doors for a reach-in closet. If you need to create closet space in a room, well install custom-built gables and sliding doors that add instant closet storage anywhere.
Sliding closet doors also work nicely as room dividers to partition off an area of your living space for more privacy when needed.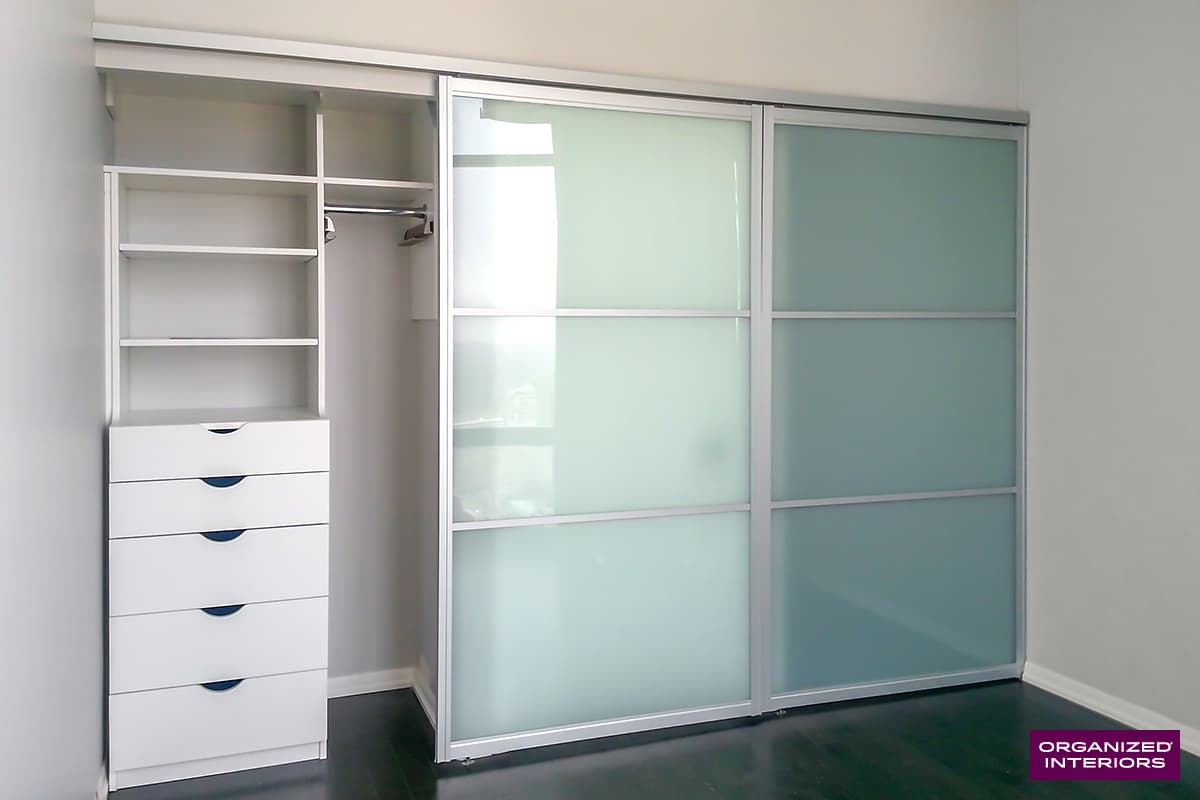 4. Guest room with a Murphy wall bed
Another spare room idea worth considering is turning that underutilized part of your home into a useful guest room. Including a Murphy wall bed in the rooms design is a great idea, too.
A Murphy wall beds biggest benefit is that it takes up very little space. Until theyre needed, the bed stays folded up and out of the way. You can surround the bed within beautiful custom cabinetry that provides storage space for your guests linens and pillows.
Having a guest room always-at-the-ready is a wonderful thing to have, not just for unexpected overnight guests, but any time. Your guests, especially if theyre older, will appreciate sleeping on a comfortable mattress thats a lot friendlier to their backs than an air mattress or lumpy couch.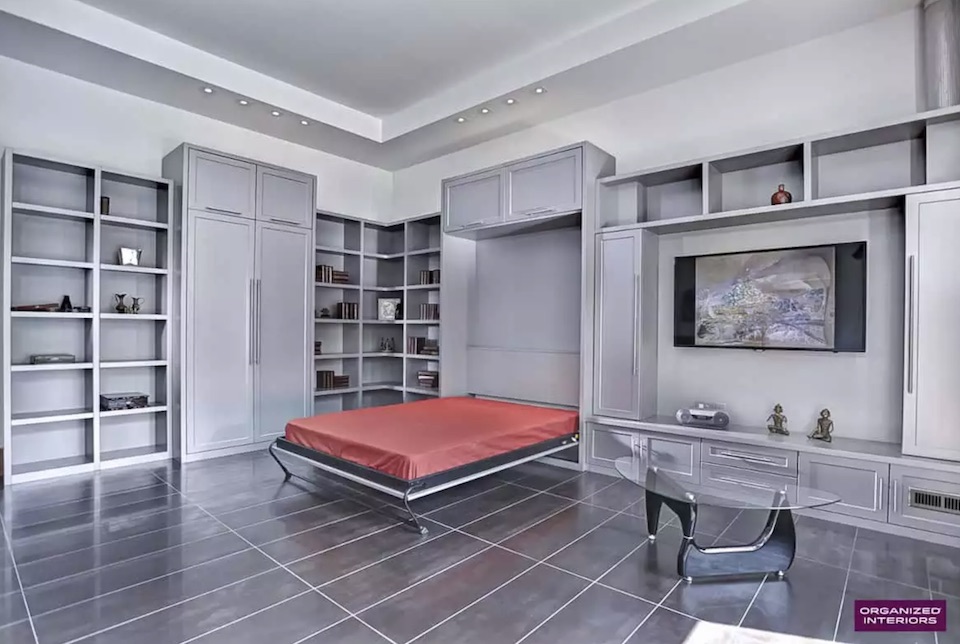 5. Wardrobe closet
Your main bedroom closet has gotten the makeover treatment and youre still not satisfied with how much storage room is available for all of your clothes. What can you do?
Let a wardrobe closet be your clothes storage saviour! Custom wardrobes can be built to the size you need to alleviate the problems caused by an overstuffed bedroom closet.
Whether its for extra shoe storage, more hanging space, or extra accessories, wardrobes are ideal as a supplementary bedroom storage solution. They can be designed as a built-in or standalone furniture piece.
And if that shared closet space with your partner just isnt working so well for either of you, eliminate the frustration youre both feeling by getting a wardrobe that one of you can use.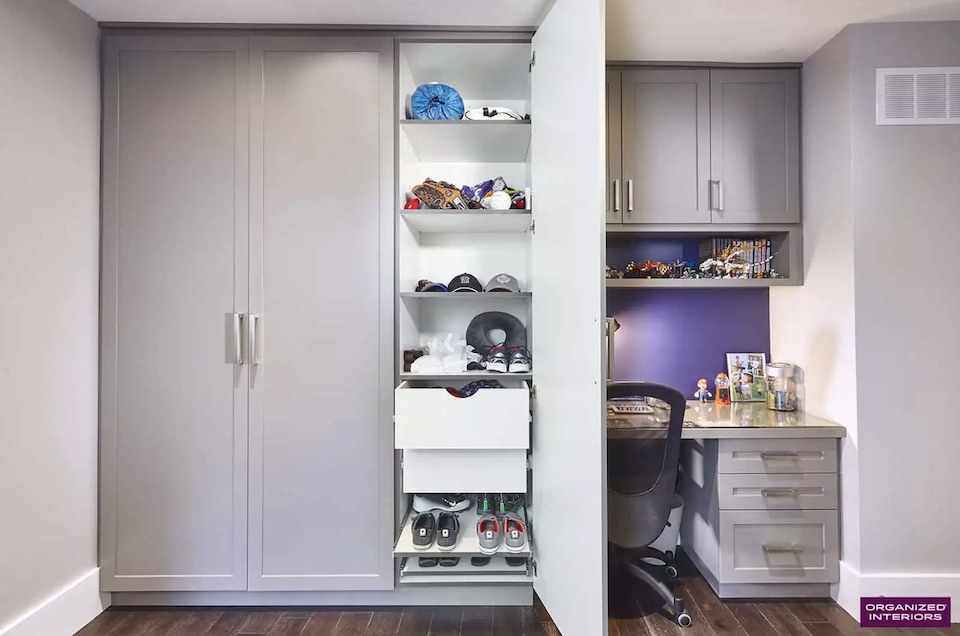 6. Home office
A home office thats cluttered and lacks tasteful dcor is not a space that encourages a high level of productivity.
We have plenty of home office ideas that will refresh your workspace and increase your ability to get more done while working at home.
Choose from our wide selection of finishes and styles available to create a more comfortable room thats custom-designed to accommodate your work needs.
7. Study space
Your kids might benefit from having a private, comfortable area in your house or condo to study in with fewer distractions like a home study space.
We can transform a spare room or even a small area of your home into such a space to help your kids focus better with their studies.
If space is an issue, a study area could also be combined with a home office as part of a multi-purpose room design.
Find out more here about creating a learning-friendly study space in your home.
8. Laundry room
Even at the best of times, doing laundry isnt anyones idea of a fun way to spend a few hours. Laundry tasks can be a whole lot more miserable to tackle, however, when the room youre working in feels like a dungeon.
An increasingly popular way to organize your home and improve one of its hardest working rooms is to update the laundry rooms appearance and functionality.
With more aesthetically pleasing dcor, improved lighting, maxed out storage, and useful features like a pullout ironing board and hampers to keep dirty clothes sorted, laundry rooms are capable of being comfortable spaces you wont dread setting foot in.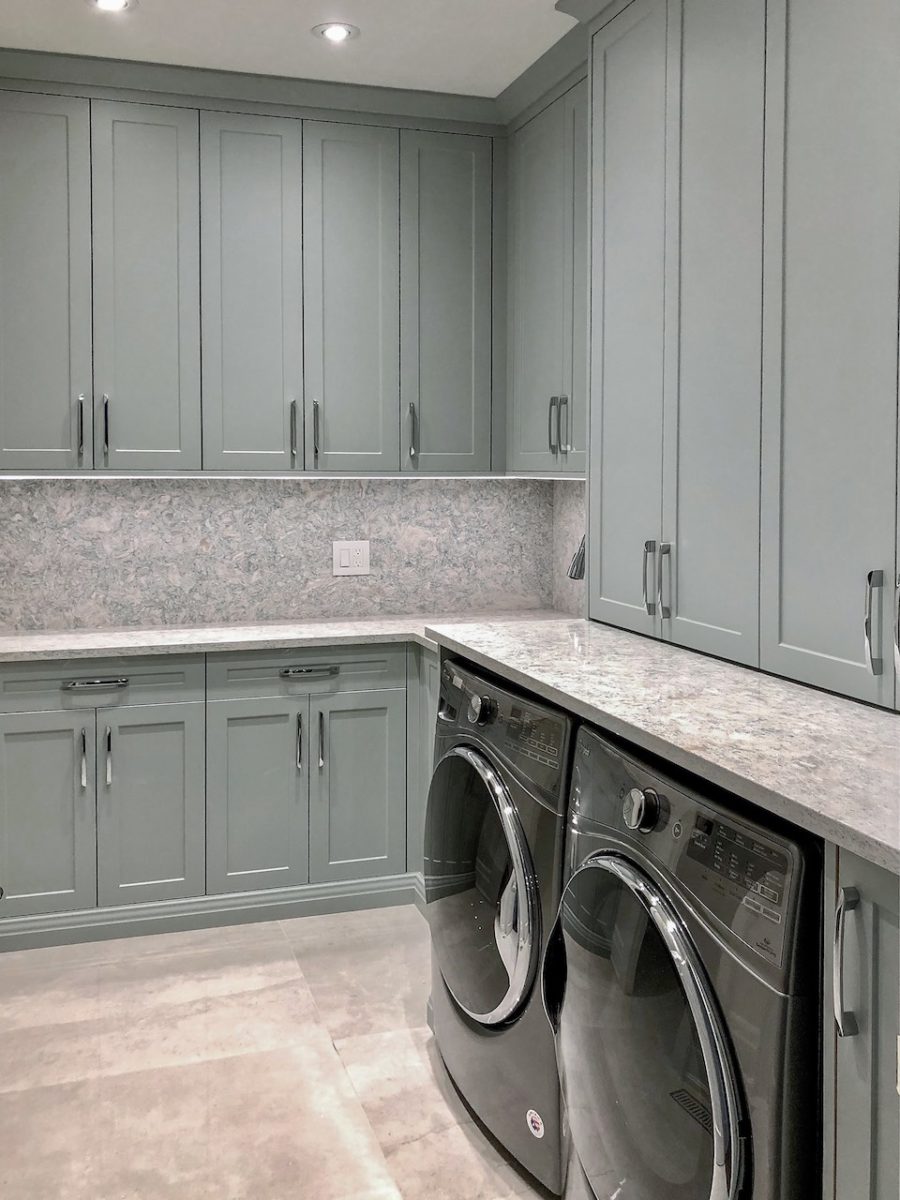 9. Wine room
Is your wine collection in need of more storage space? Perhaps your wine collection has never had a proper home and is being stored on wine racks in your basement or living room.
The perfect solution is to turn your spare room into a walk-in wine cellar or a wine room thats stylish enough to use as an entertainment space.
For smaller spaces or more modestly-sized wine collections, a reach-in wine closet is another option to keep your bottles organized and in ideal storage conditions.
10. Wet bar
With a little imagination, inspiration, and customization, you can set up a wet bar in almost any room in your home.
Custom bar cabinetryis a great way to keep your liquor organized, in addition to addingan aesthetically pleasing touch of class to any room.
Entertain in style with one of our custom-designed cabinetry units, island-style bars, or mini-bars.
11. Entertainment centre
Your home entertainment space needs to efficiently accommodate the wide array of audio and video equipment and accessories we use every day.
Keeping all of these devices and cables organized requires more than a few shelves or a small TV stand with a couple of drawers. A built-in entertainment centre is the answer.
It doesnt merely provide storage space for your TV and all of your other home entertainment stuff, an entertainment centre becomes a home showpiece and the focal point of your living room or home theatre.
Choosing a custom solution over a prefab furniture unit has many advantages. Find out why custom entertainment units are better than prefab units from big box stores.
12. Linen closet
The linen closet doesnt get a lot of home improvement attention because its a utilitarian storage space thats typically small and has a fairly straightforward layout.
Thats exactly why you should think about a linen closet makeover, however. Theres plenty of room for improvement in most reach-in linen closets, which do their fair share in helping to organize your home.
You can have the closet redesigned to freshen up its appearance, maximize its storage space, and keep up with the daily use it gets storing the many linens in your home.
Discover more linen closet ideas here.
13. Built-in bedroom cabinetry
For a stylish solution to a good nights sleep, look no further than built-in bedroom cabinetry that is custom-designed for your space, creating a seamless blend with your bedrooms decor.
Our bedroom cabinetry combines your bed with surrounding built-in storage below, above, and around your sleeping space in a smartly designed integrated furniture piece.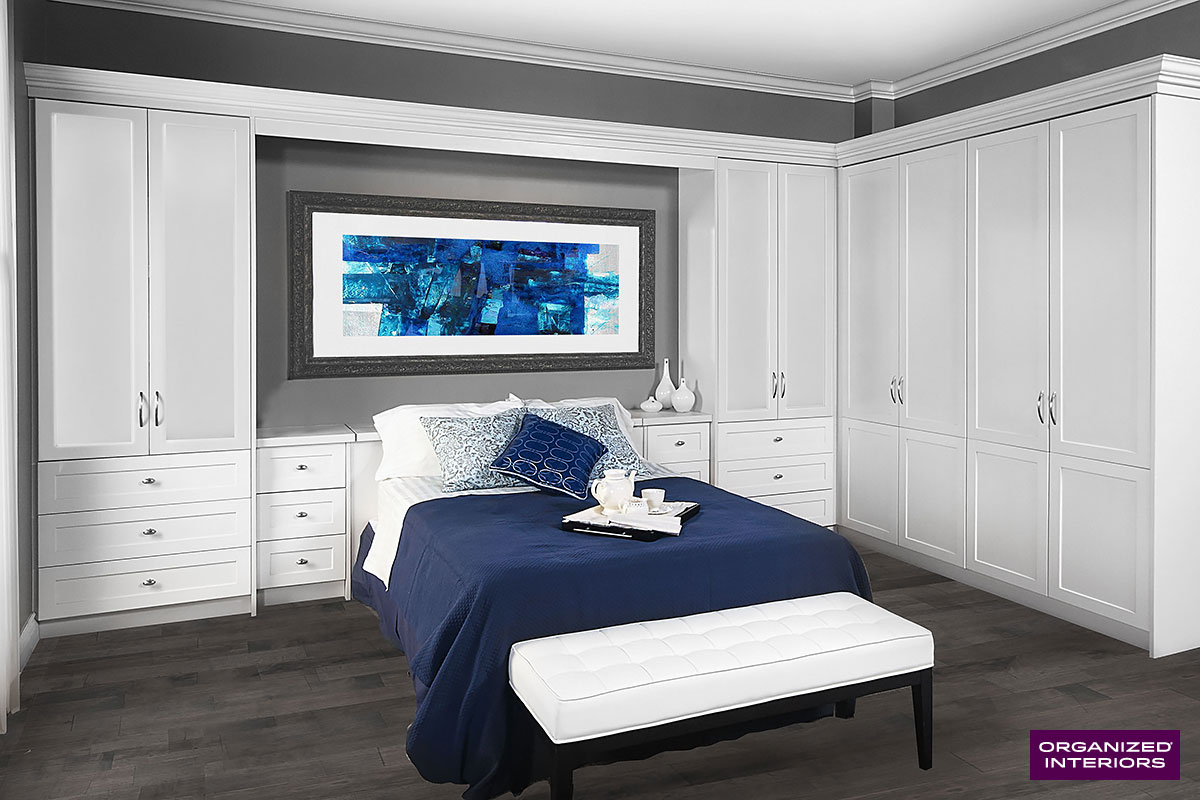 14. Makeup table
With makeup application being such a staple of the daily routine for so many women, it makes a lot of sense to have a makeup table in order to streamline the process.
A posh makeup area where your beauty routine occurs almost every day is certainly practical, as it helps you to stay organized. Its also nice to have a personalized space to complete your beauty ritual more comfortably.
Learn more here about why a bespoke makeup table could make a great addition to your walk-in closet, dressing room, master bedroom, or bathroom.
15. Mudroom
Mudrooms are rather underappreciated when it comes to rooms that are highly valued when it comes to helping to organize your home.
Whether your mudroom is a small room near an entrance, is combined with your laundry room, or is a dedicated space in the hall of your homes entryway, there are many ways to enhance its functionality.
Shoes, umbrellas, jackets, and other outwear can all have a proper home using hooks, custom cabinetry, shoe racks, and other solutions to keep this transitional space orderly.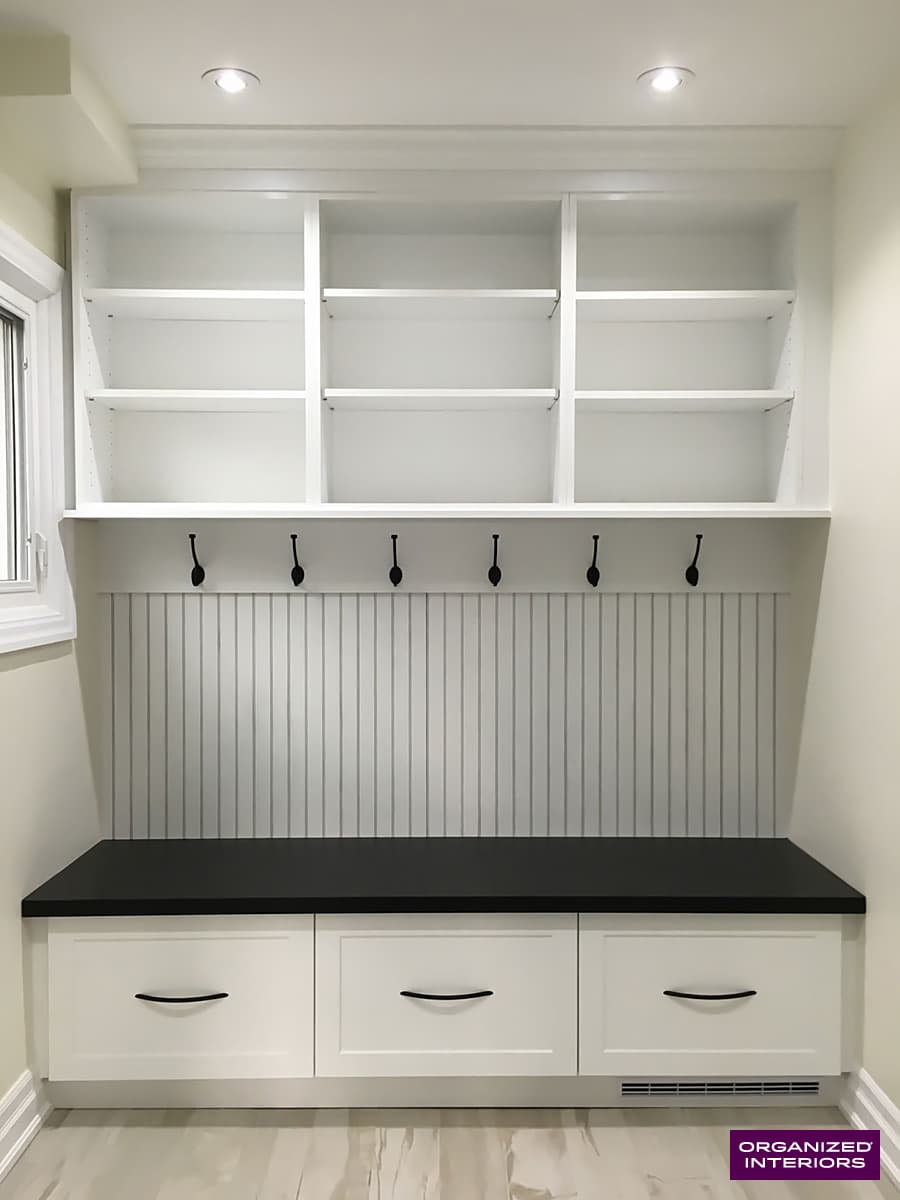 16. Basement
Basements provide ample room for home storage, but theyre rarely given much consideration to keep the things youre storing organized and easy to find.
Adding better storage systems like custom cabinetry to maintain order and to eliminate visual clutter will help make the basement look more presentable.
An unfinished basement leaves a lot to be desired in the looks department. Make the space cozier by:
finishing the walls and ceiling and upgrading the basements insulation
adding a raised floating floor that is more comfortable (temperature-wise) to walk on
replacing old carpeting with new carpeting, carpet tiles, or interlocking floor tiles
further reducing the chill in the basement with an energy-efficient electric fireplace

17. Library/reading room
If youre an avid reader and have a large book collection, dedicating a spare room or smaller part of a room for storing books on custom cabinetry shelves keeps things looking tidy and easier to organize.
Make a few more practical additions to the room by complementing your books stored within stylish furniture with some of these ideas:
a comfortable accent chair
a high-quality reading light
an ottoman
a side table for beverages
Now you have the ideal personalized space where you can indulge your passion for reading in privacy and blissful comfort!
18. Craft room
Another smart use for a spare room if you or someone else in the family is the creative type is to turn it into a craft room.
From sewing, to scrapbooking, to playing music, to creating art, make a unique space that is bright, fun, and allows you to spend time doing what you love.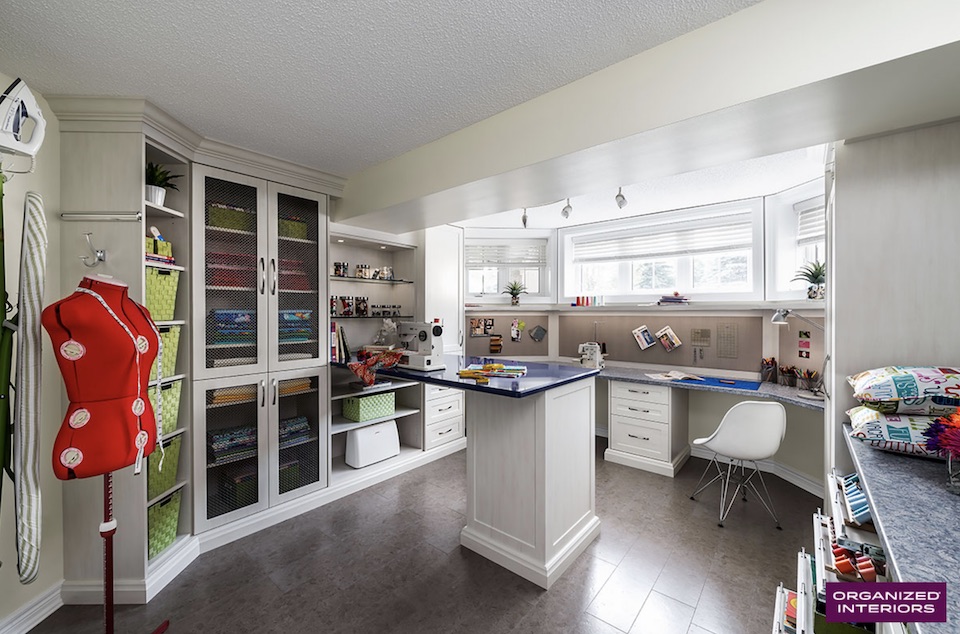 19. Closet accessories and decorative hardware
To get even more out of your closet spaces, take advantage of the many helpful closet accessories Organized Interiors carries.
Accessories like extra hanging rods, valet rods, pullout shoe racks, and racks for ties, scarves, and belts elevate a closet spaces functionality to the next level.
Decorative hardware that accentuates the custom cabinetry and complements your dcor is also an important consideration when having your storage systems designed.
20. The garage
Plans to organize your home in 2020 might include getting your garage in order. If your garage clutter has relegated your vehicles to being parked in the driveway every day, talk to Garage Living.
They specialize in transforming disorganized, visually unappealing garages into highly efficient storage spaces that look as stunning as a luxury car showroom.
Let us help you organize your home this year
It can be difficult to decide where to start with your New Years home organization project.
For some homeowners, it may also be a bit overwhelming trying to decide what storage solutions and design changes are most practical for their living space.
Instead of struggling to figure everything out for yourself, rely on pros like Organized Interiors to help you organize your home this new year. Our storage solutions and expertise are abundant and available!
Get 2020 started off on the right foot and schedule a free in-home design consultation with us today.
Please share this post if you found it useful.
See also: