Your 2022 Amazon Favorites
Hey friends! We're almost a month into 2023 but I'm still slowly combing through top posts and favorite finds of 2022. (You may see my previous posts here:
Top Posts of 2022: The Extras
/
Top Posts of 2022: Recipes
) Last week I began sifting through your Amazon favorites from last year and I'm happy to report that all of your favorites are still very much our family's personal favorites, too!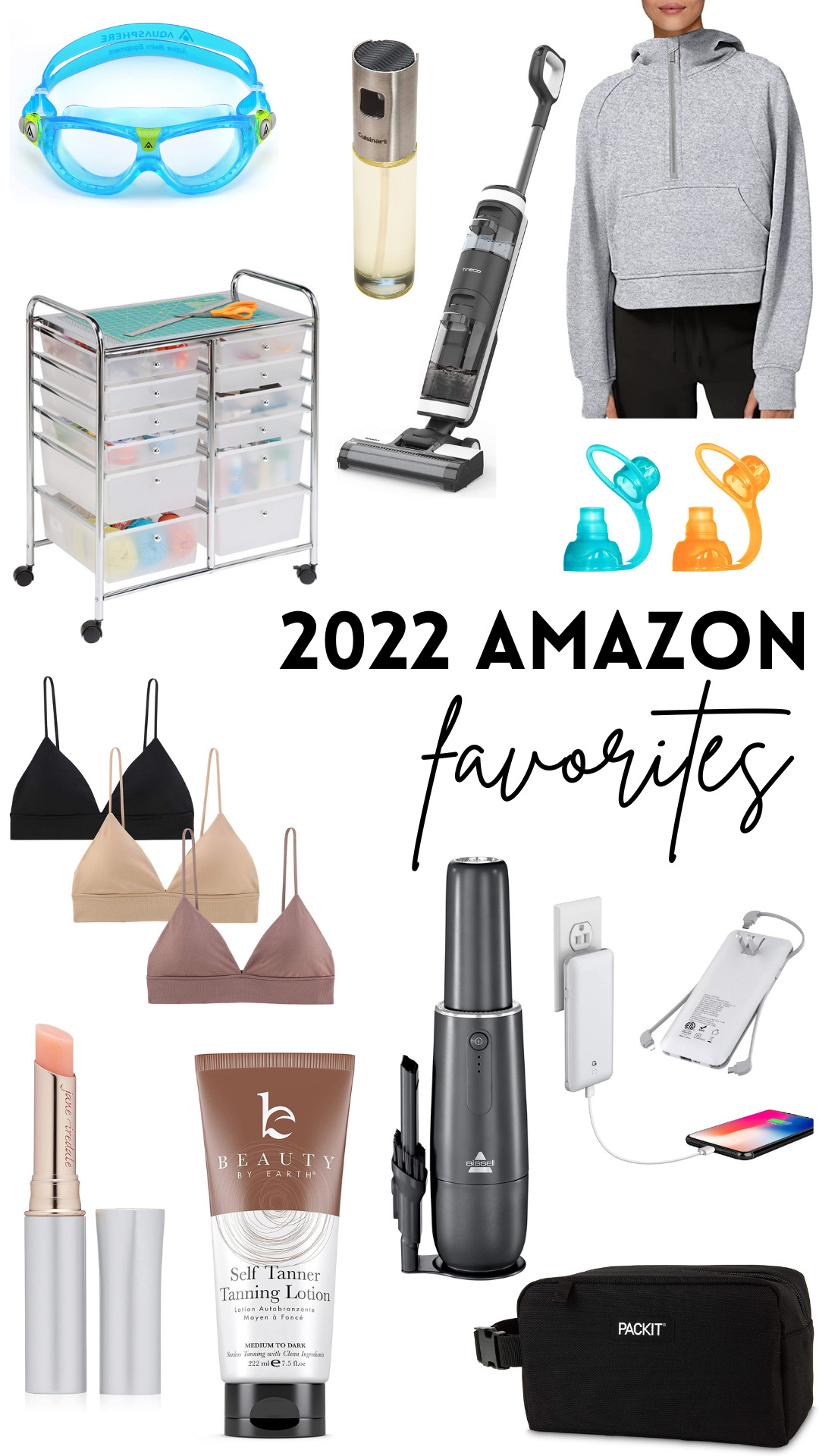 I broke your 2022 Amazon favorites into your top 10 favorites in four categories: Home, Fashion, Kids and Beauty. Truth be told home and kid items blew everything out of the water but fashion and beauty favorites held their own with a lot of top finds, too. Hopefully this post will help you check out something that might be useful or fun for you, your friends or your family in the coming year!
Note: You may find all of these items in the 2022 Favorites section of the Peanut Butter Fingers Amazon Store! 
Amazon Favorites: Home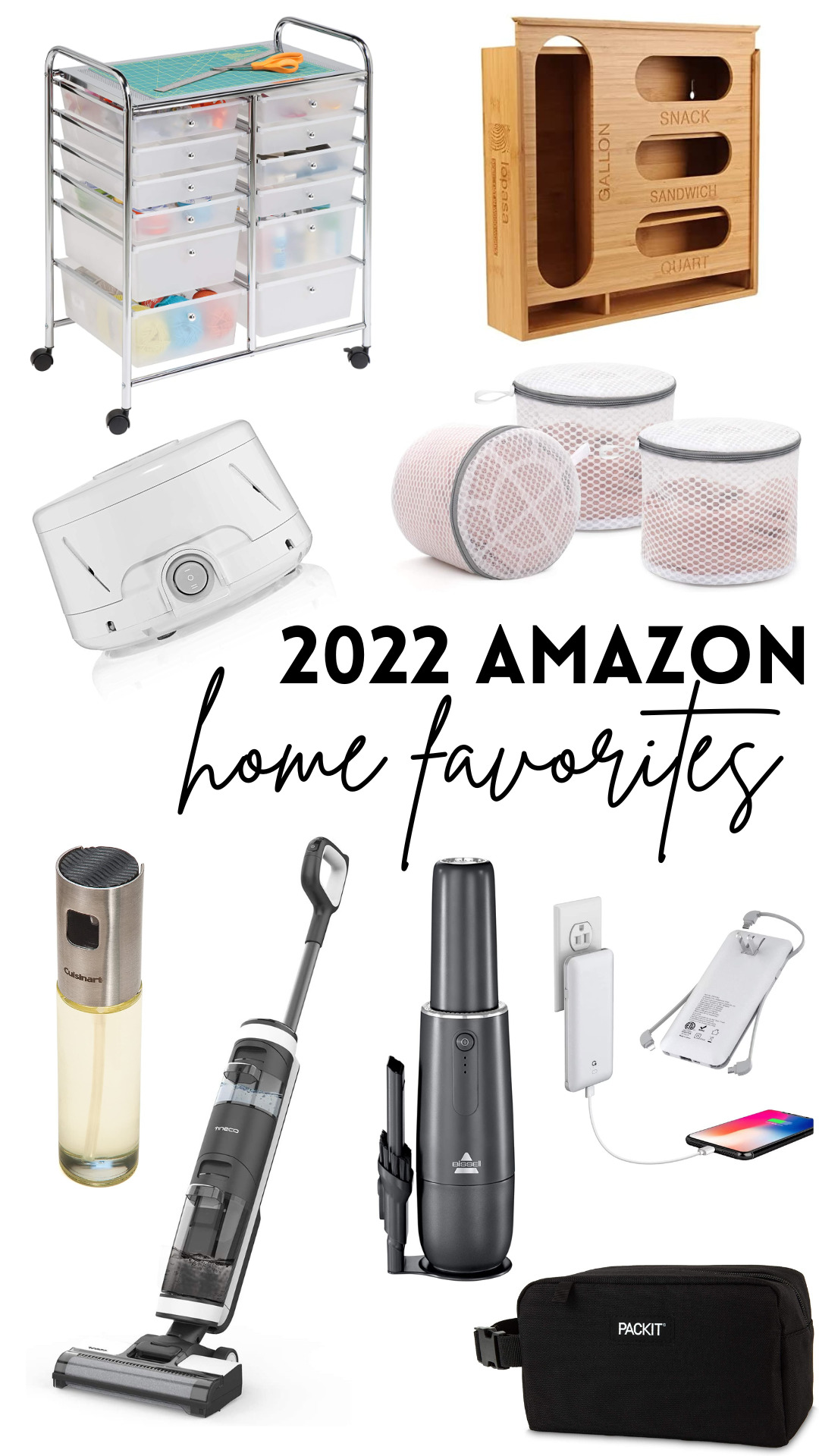 The handiest little handheld vacuum around! We leave ours constantly charging because we reach for it so often to vacuum up messes in our cars and the boys' car seats as well as crumbs in the bottom of drawers and little messes around the house. Our boys also oddly love this thing so it's been a great way to include them in household cleaning, especially with small messes that they may have created themselves (I'm looking at you, glitter).
So many of us have and love this charger and for good reason. It comes with cords attached and can charge multiple devices at once. The cords also charge different kinds of devices which is particularly handy if you need a portable charger for your phone but also kid electronics when you're traveling. Ryan and I both have this charger and I leave mine in the center console of my car for emergency charging.
I've raved about this wet vac so much and my praises for it will never die unless it dies on me! I swear this thing is the only reason we have clean hardwood and tile floors in our house. It's been crucial for us since we are still in the phase of life where our kids leave crumbs and messes in their wake. I love that it easily vacuums up spills (yogurt, milk, etc.) in addition to everything else that might find its way onto the floor.
As someone who gravitates toward sports bras and workout tanks that include cups and liners (#smallchestproblems), these mesh laundry bags are so helpful. They help keep the liners inside of my sports bras and tanks when I wash them and also protect delicates.
My mom gave me this oil mister and after years (truly years!) of trying to find a decent refillable oil mister, I was so grateful for this gift because it actually works… and works well! It easily mists the bottom of pots and pans or veggies for roasting and doesn't clog up at all.
Gotta love a plastic baggie organizer that isn't a total eye-sore. This is such a small thing that really helped make our pantry feel a little less cluttered and disorganized with various boxes of Ziploc baggies all over the place.
Oh happy day! A way to corral all of our kids' crafting supplies in one place! After dealing with an overflowing craft cart for years, I finally recognized how irritated I felt when I would have to get out craft supplies for our boys and deal with a jam-packed craft cart. Making the change to this rolling craft cart that provided a lot more space for various kid-related craft supplies felt like a giant exhale. Now the boys know where to find everything they might need for their projects and I'm happy to report that after using this craft cart for months, it has been well used but still remains organized.
This is a handy little contraption that fits right over the sink! It balances on top of the sink and we use it to strain and rinse everything from fruits and veggies to pasta and beans.
My Mom Life necessity! I simply throw this entire snack bag in the freezer and then when we're about to leave the house I fill it up with snacks that need to be chilled (yogurt, string cheese, etc.) for easy on-the-go snacking.
Ryan and I joke that our kids turned us into bougie sleepers because we now need white noise machines to sleep. We've had a number of white noise machines over 7+ years of kids and babies but no one is better than the Dohm! It uses a REAL fan for white noise so there is no weird mechanical loop to set your brain on fire in the middle of the night.
Amazon Favorites: Fashion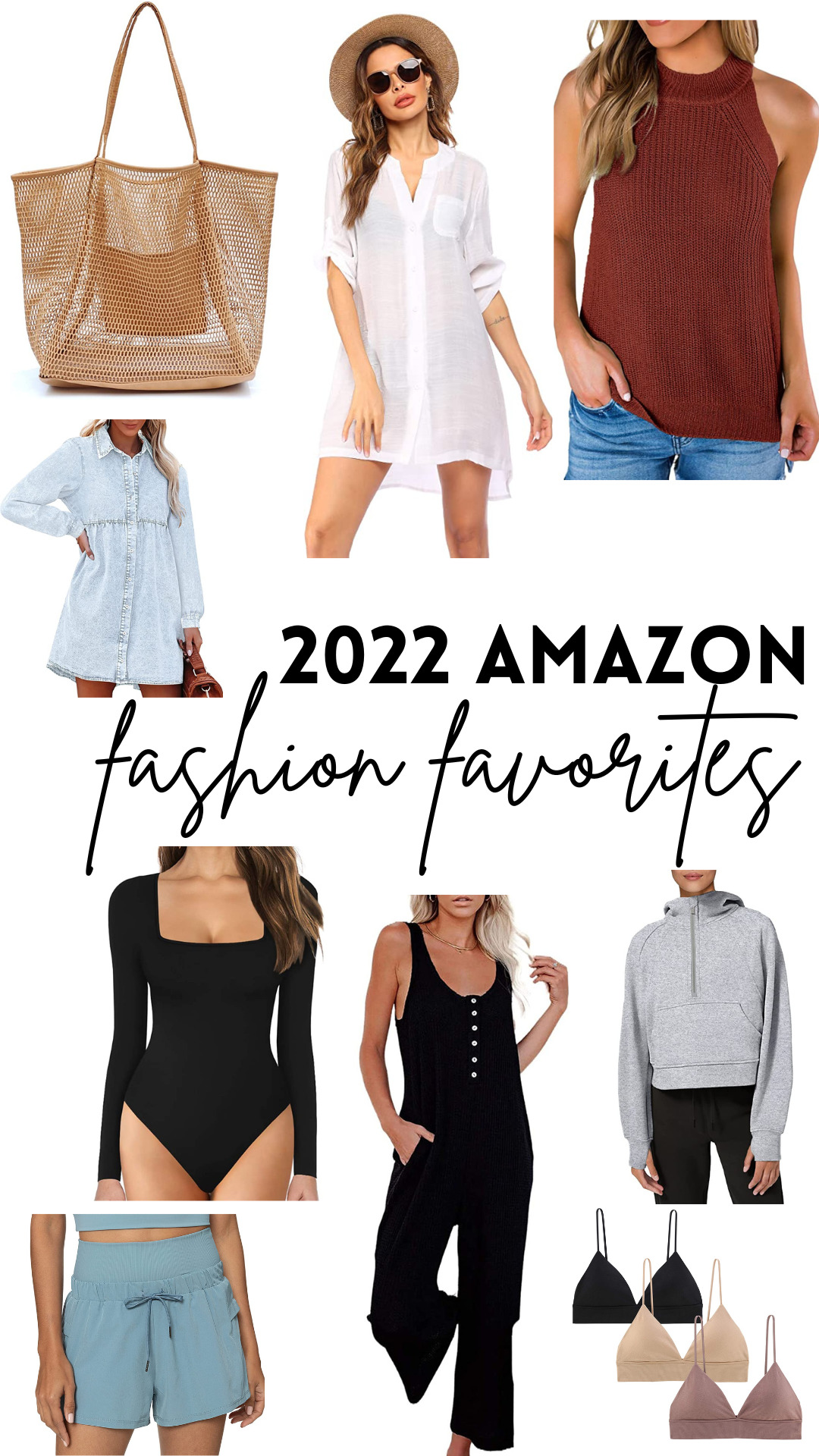 This was my number one bestseller across all categories in 2022. Considering the fact that I wear these bralettes almost every single day, I completely understand why! Clearly we are all over uncomfortable bras and wires that dig into our sides and when you stumble upon a bralette that is comfortable enough to sleep in, there is no turning back!
We're approaching warmer months which means I'll go back to wearing this jumpsuit on repeat! It's so incredible comfortable and so cute with slides or sneakers. I have it in black and olive and feel like it's a great alternative to athleisure when I need an outfit that is comfy and works for busy mom life but isn't leggings!
The hoodie that had all of us instantly obsessed!!! It's such a good find and the thick, comfortable fabric, flattering fit and quality of this hoodie had me ordering it in three different colors! This hoodie is, by far, my most-worn clothing purchase of this past fall and winter.
This coverup is universally flattering and every time I wear it out in person, I swear I have someone stop me to ask where I got it. The fabric is lightweight and breezy while the length and button-up style give it a classier feel than typical coverups.
One of my best discoveries of the summer! I loveee this beach tote so much because it makes finding what I need in the abyss of a typical beach bag a breeze. I found myself reaching for this tote above all others after I bought it because sand easily falls out of it and while it doesn't look huge, it holds a deceptively large amount of things!
These joggers come with a higher waist than most and a smooth tapered leg that makes them look less sloppy than other joggers I've tried. They're comfortable and the fabric is smooth and flattering. I love them paired with a hoodie, a flannel and white sneakers, a tee or even a cropped tank.
This knit tank was a gem of a discovery! I'm picky with how tank tops are cut and this tank has a cut that slims the shoulders and fits like a dream. It's lightweight for a knit tank and a spring and summer staple for me. I have it in a few colors because I love it so much!
I purchased this dress when I saw it pop up as an Amazon recommendation for me because it looked almost exactly like a Free People dress I'd been eyeing that cost double the price. It feels like real denim and is nice and flowy! I ordered a medium for length (I'm 5'7") but it has a very billowy fit so if you're not worried about length, I'd size down.
The bodysuit I wear all year long! This one is so crazy flattering and I swear I've paired it with so many different bottoms in my closet. It's fantastic with baggy or skinny jeans, overalls, flowy skirts… you name it! The square neck is gorgeous and I also ordered the v-neck version in black and white and love them as well.
Hooray for high-waisted shorts that actually work with a long torso! So many high-waisted shorts out there look ridiculous with my torso because to truly wear them in a way that looks high-waisted, they basically ride up waaay too high. These shorts fit so well and hit right above my belly button but the length doesn't reveal even the slightest amount of booty (that's a huge no for me). I sized up and was glad I did!
Amazon Favorites: Kids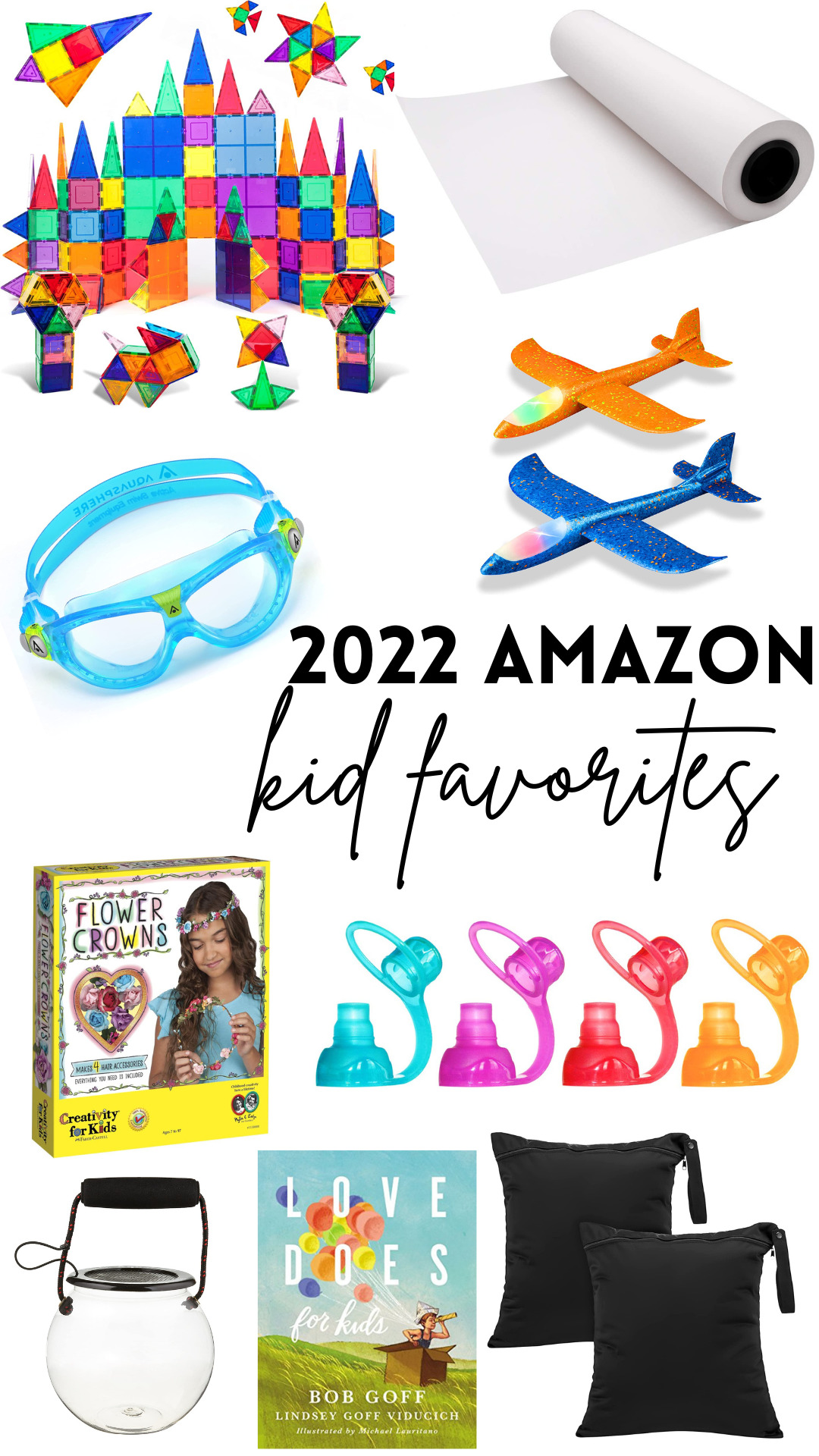 Once we discovered these goggles for the boys last summer, I swear our time at the pool improved dramatically. That may sound ridiculous but if you've spent any time at a pool with kids who constantly need their goggles adjusted or complain about leaks and fog, you know where I'm coming from! These goggles are game changers and check all our boxes — they stay on, are fog resistant and comfortable enough for our boys to wear for hours of swimming.
Can I just tell you guys how happy I was to see this devotional make this list? We adore this book and I cannot recommend it enough for anyone looking for ways to talk about God and Jesus with children. It addresses the love of God and the Bible in a way that feels approachable and interesting to kids and the stories captivate our boys. (Chase truly asks me to read him stories from this book!) It's also prompted some wonderful family discussions which is a big-time bonus!
When I went to create the link to this kit, I saw I have officially purchased this flower crown kit FIVE times! Clearly it's a go-to birthday party gift for the boys to give to their girlfriends. All it took was hearing from two of my friends that their little girls absolutely loved it for me to keep it on the backburner as a great gift option for the little girls in our life.
This is an inexpensive gift our boys absolutely flipped for that we've since gifted to so many of their friends. These airplanes aren't anything fancy but they have entertained our boys for hours and somehow lasted for years!
I love that this kraft paper made this list because it's something we use in our house constantly for a myriad of reasons. From coloring and painting to creating banners and more, a roll of kraft paper is something we always have on hand!
I we could only keep ONE toy for our boys in our home, magnetic tiles would be it! (Their collection of matchbox cars would be second place.) They use magnetic tiles in our house every single day! Their creations never cease to amaze me and they've used their Picasso Tiles collection to make castles, mazes for lizards and bugs (yes, live ones), garages for their cars, airplane runways, alien space ships, animal rescue centers, zoos and more. They are the BEST for encouraging imagination and I'm pretty sure we now easily have 200+ pieces of Picasso Tiles in our collection and they ALL get used!
Bless this little tool for encouraging independence and giving me a break from crawling into the back of the car 1,000 times a day. This little tool helps kids unbuckle themselves from their car seats by giving them the additional pressure their hands might need on the middle buckle. Ryder (age 4) still uses his tool every single day and it's been a game changer for day-to-day independent unloading!
My mom surprised our boys with this catch-and-release aquarium and it quickly became one of their beach staples. They've fill this aquarium with little fish and crabs during our beach trips and seem to love how visible the aquarium makes their special finds!
Last summer was Chase's first summer on a swim team and we were dealing with wet swimsuits and damp towels nearly every single day. Enter these wet/dry bags! They keep wet clothes away from dry towels and clothes or, alternatively, they can protect dry clothes from wet items in your pool bag.
I think this might be my number one best-seller if you count the number of times I've recommended it to moms in person! We discovered these pouch toppers when Ryder was a baby thanks to your recommendations and they're now a go-to baby shower gift for me. They're the best for encouraging independent feeding and preventing baby food pouches from spraying everywhere.
Amazon Favorites: Beauty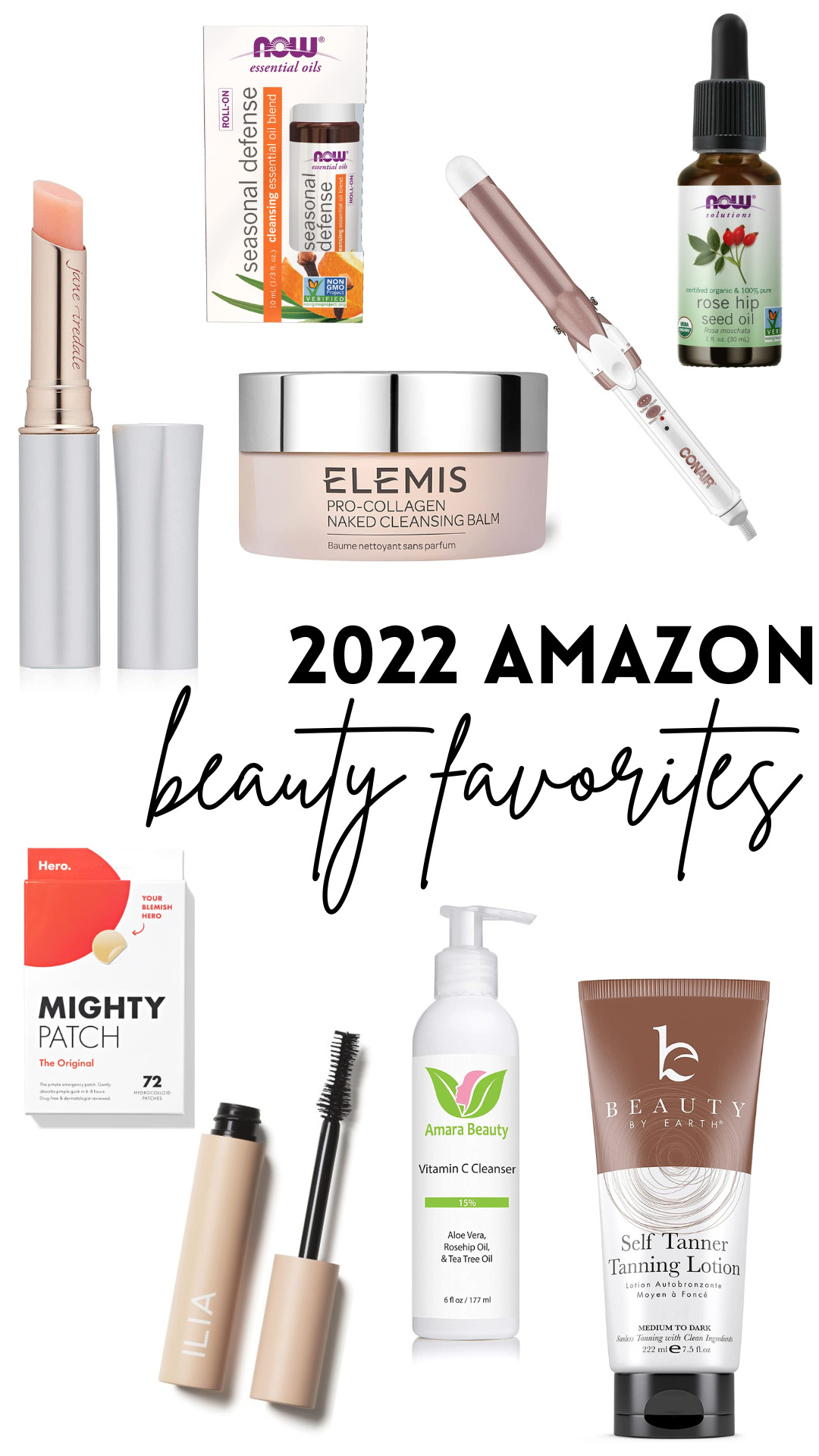 I received a small tube of Jane Iredell's Forever Pink Just Kissed Lip Stain as a free sample in a beauty order I purchased and when I tried it, I was blown away! I thought it was just a sheer lip balm but noticed my lips quickly turning a perfectly light and bright pink. I then Googled the product and when I saw that it was one of those changing lip balms, it all made sense! I quickly ordered a full-size tube of this lip stain because I love it so much! It feels like lip balm/Chapstick when you apply it which I adore since it feels incredibly hydrating. It quickly develops into a richer color that still has an incredibly natural look — think "no makeup makeup" but with just the right amount of color to enhance your natural lip color. An added bonus: It's a clean beauty find!
When the sunless tanner I previously used and loved for years was discontinued, I was on the lookout for a clean beauty find that would give my skin a natural sun-kissed look. Bless this Beauty By Earth Sunless Tanning Lotion because it saved the day! Upon first use I was sold and I've been using it exclusively for my sunless tanning needs for almost a year. It feels nourishing to my body and moisturizes my skin and the tan that emerges looks wonderfully natural with no streaks or orangey appearance. It also does not smell which is a HUGE perk! (Note: I buy the medium to dark shade and it works well on my skin.)
I've been a diehard fan of this dry shampoo for years and remain a loyalist because it WORKS. This stuff is some kind of sorcery because I swear it can magically transform greasy, lifeless locks into hair that looks fresh, voluminous and clean. I have no idea how many cans of this dry shampoo I've purchased over the years but I'm sure I'll be buying a million more in years to come.
Every month, right around that time of the month, my skin lets me know my period is coming. I'll get a few of those hard, painful zits on my chin and it takes everything I have not to pick them like crazy even though I know picking them does nothing other than irritate them and cause scarring. Even though I can't prevent the pimples from popping up, Mighty Patches make them a little less horrific. These little patches majorly exceeded my expectations and when I apply one to a hard, painful zit and leave it on overnight, it always seems to be better in the morning (not gone but definitely better and I'll take that)!
The patch is quite small — just small enough to just cover a zit — and uses medical-grade hydrocolloid to "absorb pimple gunk." The adhesive patch stays put all night and removes easily and painlessly in the morning. They're now a staple in my skincare routine when I see a zit pop up!
I may be showing my naivety when it comes to hair health and haircare but I do not understand why some curling irons are $100+ dollars when $15 versions like this one work like a charm! I love this curlin iron for creating beautiful, romantic curls and it gets bonus points for actually looking pretty on my vanity counter.
I'm not sure whether it's age or hormonal changes that surfaced after having children but I've become a lot more sensitive to fragrances and perfumes in recent years. I cannot tell you the last time I wore real perfume because it makes me feel all itchy and sneezy. Thank goodness for essential oil roll-ons! They provide a little bit of a smell that never makes me react negatively and honestly boost my mood. I know that sounds crazy town but I love rolling this seasonal defense essential oil onto my writs, neck and the inside of my elbows. It smells fantastic without feeling artificial or overpowering to my senses… and if it can possibly help ward off sicknesses, that's an added bonus!
Influencers have raved about this stuff forever and I finally decided to give it a try this year. What finally convinced me? The application process sounded so unique. To use this cleansing balm, you rub it all over your face and then use a damp wash cloth to wipe your makeup and the dirt of the day away. The whole process sounded oddly luxurious and relaxing and I'm happy to report that using this cleansing balm at the end of the day feels nourishing, hydrating and lovely. Applying the balm feels almost spa-like and as someone who finds washing my face kind of tedious, it's nice to have a product on hand that I genuinely look forward to using at the end of the day. I still prefer my regular cleanser in the shower (this one or this one) but love this for washing my face at the end of the day.
This is the facial cleanser I've been using for years after an aesthetician spoke to me about the importance of vitamin C in a skincare routine. (I also use a vitamin C serum every day.) Ryan and I both use this one (and the NOW Clarify & Illuminate cleaner) in the shower and have ordered it countless times over the years.
I was in the market for a clean mascara that added length and volume to my lashes and SO many I tried majorly fell short. Then the ILIA Fullest Volumizing Mascara entered the picture and I've never looked back. I use this one after a coat of Tarte Opening Act Eyelash Primer (highly recommend eyelash primer!!!!) and love the way it makes my lashes look fluffy, full and long.
If I could only use one product for skincare, it would be my rosehip seed oil. It's been a part of my skincare and beauty routine for years (since 2016!) and I absolutely adore it. I genuinely crave applying it to my face after cleansing! If you're interested, you may read more about the benefits of rosehip seed oil in this post: Why Rosehip Seed Oil is My Natural Beauty Rockstar.
Questions of the Day
Did you have any superstar purchases that stand out above all others from last year? 
Have you tried any of the items listed above? Any personal favorites?
The post Your 2022 Amazon Favorites appeared first on Peanut Butter Fingers.